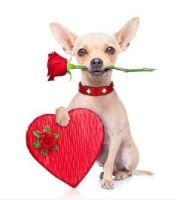 Love: What is that?

Love was in the air, it was Valentine's day and I was newly divorced. I was in the Valentines aisle in a neighborhood variety store. The unfortunate image of my ex invaded my thoughts as I looked at all the yummy, fun stuff I might buy for my grandchildren. I thought how he would never buy me a box of chocolates because he didn't want me to get fat. I have to admit, even after all the years of separation it still hurt that he thought so little of me.
Instead of going down that sad road I mentally slapped myself into a different decision. I did a mental 180 and decided I didn't need no stinkin' man to give me a box of valentine candies! I could do it MYSELF! So, there, in that store, I proceeded to have a lovely time looking for the perfect gift to give to me.
Love Moves Me
The enormity of that moment was not lost on me. It transformed into the biggest, brightest red tin of chocolates I could find. With a spring in my step I headed to the checkout line with that tin tucked firmly under my arm.
I was standing there thinking about that box of chocolates, anxious to get them into my car when my reverie was interrupted by an elderly woman behind me. She said, "Wow looks like someone is loved this Valentine's Day." I looked back and smiled, "Yes, me. I decided I was tired of waiting for someone else to show they love me so decided to do it myself." She laughed in appreciation and said, "Well good for you!"
Now THAT is what I call a babe in total charge of herself – BOOOOOYAAAHHHH!