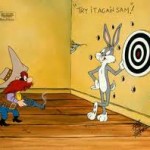 By Mor E. Caubell
I have recently returned to shooting and thought I'd write about my experience.
 I probably wouldn't have thought about shooting if my daughter hadn't expressed an interest in law enforcement. So I asked her if she wanted to go shoot a handgun. She did, and we arranged to meet one of her Cop friends at a local range. I would have done the introduction to shooting myself, but a quick review of my long history of shooting didn't build much in the way of self confidence.
 My experience with handguns was strictly limited to 6 years in the Navy, guarding nuclear submarines when they were tied up to a pier, with a 45 strapped to my hip. In the 6 years, I think I shot all of 20 rounds to qualify as the security guard. That's it, I didn't even qualify for the Navy pistol marksmanship medal. The real security in submarines is their ability to close the hatch, leaving me topside to dispatch the bad guys with the 10 rounds that I was issued. I don't know what I was supposed to do, if I was attacked by 11 or more guys, the briefing never covered that part. But I don't think it would have worked out very well for me.
 Anyway, my daughters Cop friend, walked her through the basics, and then let her shoot 2 or 3 different models of handgun. At some point during her shooting, I was asked if I wanted to shoot, but I declined the offer. This trip was for my daughter, not me.
 Now let me state, it's been several years, ok… decades, since I've shot a handgun.
 But the experience with my daughter got me thinking. Am I as good as I used to be? Like a person could get "good" shooting a total of 20 rounds. Could I even hit the side of a barn is a better question. After pondering that question a few days, I decided to give it a try myself. All by myself, no need to expose ones short comings to the world at large, or to my friends.
 I went back to the range, rented a handgun, hearing and eye protection. Bought a box of ammunition and a couple of targets. The clerk behind the counter showed me how to load the gun, how to operate the safety and such. Then I went to my assigned booth and proceeded to hang the target.
 Next, I ran the target out to 10 yards and proceeded to load the gun. It was at this point that I realized how weird I felt. I paused to access the situation, my heart rate was elevated, my respiration rate had increased, my hands were even shaking. I remember thinking wow, what is going on? It's not like I haven't shot a handgun before. So I forced my breathing to slow down, and waited for my heart rate to return to something close to normal.
 That's when it hit me, I was experiencing an adrenaline rush, not a heart attack. Once I realized what was happening, I relaxed and concentrated on normalizing my breathing, got my shaking hands to calm down, somewhat, and enjoyed the rest of day.
 I'd like to say, that I kept all of my shots in the bull's-eye of the target that day. But the truth is, I don't think I even managed to keep all of my shots on the target. But there were two or three shots that went right where I wanted them to go. Not very good, I admit. I mean 2 or 3 shots out of 50, that's 1 or 2% went where I wanted them to go. But it was enough to get me to come back to see if I could maybe get a few more shots to perform like I wanted.
 I've been shooting a lot since that day. Now, I can put most of my shots exactly where I want them. But there still is that one shot that gets away from me. Oh, it's still on the target, still in the target rings, but outside the group enough to keep me humble.
 The point of me writing about this experience, is that now, I have introduced several of my friends to shooting.
 Here's the thing, they have all experienced the adrenaline rush.
It's only natural, you are going to experience an explosion in your hand. If you've watched any TV at all, you know there will be some amount of recoil, you don't know how much, you don't know if you're going to be able to hang on to the gun. If you do drop it, will it go off and shoot yourself or someone else.
I've been there, so, I watch for the rush. Then explain to them what is going on, talk with them for awhile, until they calm down a bit. Then get on with the business of getting them to shoot and hit the target.
So if you are contemplating going shooting, expect to experience an adrenaline rush. Take is slow, you'll get through it, and it will be an experience that you will talk about for some time to come.