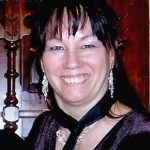 "Linda here. Raised half white half native in several towns in Eastern Washington while my parents picked apples, a couple of housing projects in Seattle, a small one bedroom house with an aging great aunt all before I ran away at the ripe age of 18. I was out there for one glorious, terror filled, Make Love Not War, no holds barred year before I got caught.  Then came domesticity and children, two foster daughters, one adopted son and two natural born, a boy and a girl, and several houses. Its now forty years and just about everything gained since then has reversed. I am now divorced; my children have all grown and moved on with their lives, and all the homes I've lived in are gone.
Me and my friend Bessie, my former roommate and co-conspirator on this website were two divorced women trying to find our way through this sometimes confusing, most of the time frightening experience of being single women in today's world. Fortunately we had each other to commiserate with and even though Bessie left us at a much too early age, her dream is continuing on as planned.
Bottom line, I am in the same boat as you are, still struggling with the past and striving toward the future. What I've discovered is it's a whole lot easier with girlfriends around me. Just remember you're a B. (Babe) I. (in) T. (Total ) C. (Charge of) H. (Herself), your life is your life, live it the way you want to unlimited by fear or by how others think it should be lived
"Hello, I'm Karen, the new B.I.T.C.H. on the block! I'm not exactly the girl next door type instead, were the fates blowing in that direction, you'd probably be more likely to find me building the house for the girl next door.  Aside from the rather nontraditional construction interests that I have, I also have a passion for my friends and family, my beautiful dog and my country.  As an extension of my love for the people in my life I thoroughly enjoy preparing feasts for friends and family, and I love a good wine (and once in a while a very good whine).
I love my all the people in my life because they accept me just the way I am and supports me in all my craziness; sometimes even encourage it!  Some of the fun things I love to do are remodeling (gave you a hint above), gardening, sewing, arts and crafts, taking a ride on a motorcycle and target shooting.  Dogs are my passion because unlike people they are loyal no matter what, love unconditionally, don't presume to judge, contain no meanness, play no games or politics, and because they have loving eyes.  As I've always said my greatest desire is to become the person my dog thinks I am.
I have always loved the idea behind the site because I was raised to believe that women should be strong mentally, emotionally and physically and shouldn't look to someone else, especially men, to take care of them.  My business career has run the gamut from blue collar to white and everywhere in-between so when I talk business, I really do know what I'm talking about.  I also want to take the word "Bitch" back, it was never meant to be a negative term."
Note from Linda:  Karen was a tremendous support and friend to both Bessie and I when we conceived and began the development of this site and I am sure Bessie would be thrilled to know Karen has stepped in to help me carry forward with our vision. 
IN MEMORIUM

1961 – 2010


"Hi! I'm Bess, the other half of BiTCH,inc….the big dreamer and girlie girl side of things. Euphemistically speaking, I refer to myself as a woman of the nineties, sometimes from the 1990's other times from the 1890's and that remains true in this new millennium, I just haven't come up with an adequate updated version of the motto. I've been the good daughter, wife and mother; have gone through the empty nest phase of my life, am currently menopausal and a woman in transition….evolving, redefining, realizing my full potential as a woman, my own woman…
"A few months ago I woke up, admitted that I wasn't happy with my life, acknowledged that I was wasting some of the most productive years of my life – the time in life where I'm only responsible for me possessing the opportunity and abilities to soar far above where I'd flown in my youth, to places I've never before been able to go. Well, that day I stopped wasting my time being resigned. Further, I stopped believing that I was an over the hill, middle aged "has been" who's time had passed. I made myself a promise to start living again, believing in me and the power of attraction to open the doors to a new direction in life.
I realized that all my home management skills, community service experience added to the previous years' professional background was indeed of value. I had accomplished many things in my life, things I am proud of and it was now time to cash in on them. So I got my act together, jumped back out there and into the game not allowing myself to be intimidated by change nor hindered by my fears of the unknown. Once I took those first few steps, the world began to open up. I began to realize so many other ways in which I had been on the shelf, having placed myself on hold for a later time. Well that time has come. So I've been taking all those talents, skills, abilities, dreams off hold – removing them from their shelves – one by one, dusting them off, cleaning them up, polishing them and finding ways to put them back to use, to work for me….creating an updated, revitalized me – seizing upon the vast opportunities that lie ahead for me in my future.
That's what this website is all about….living our best lives as Oprah says it, living it as full grown, fully mature, wise, accomplished, financially secure and beautiful women in the new millennium. The sky is no longer the limit…..we have the power to reach for the stars, the moon and even the sun if we so dare."
INTRODUCING OUR BOARD OF ADVISORS!
Steve Leach has been in technology for over 20 years, working for such companies as Safeco, Medtronic, Avenue A, which later changed its name to aQuantive, then was acquired by Microsoft. Having been a part of a highly successful startup company that actually survived the dot com bust, he brings a lot of knowledge to us around what makes startups successful.
J is 25 years old, has a beautiful wife named Sabrina and a wonderful daughter named Brooklynn. He is currently working for FedEx but is a writer in his spare time and just finished his first book.
Peggy Claar has more than 25 years in information technology (IT), most of it healthcare IT. She has been a Director in one of the world's largest companies. Her specialty has been leading web development teams and technical writing and editing teams, along with enterprise level process improvement and organizational readiness. Peggy has been an independent consultant in the information technology space for nearly 10 years; she has also owned restaurants, helping build those businesses from the ground up. She has been active in her community serving as a Guardian Ad Litem for family court as well as volunteering for a variety of local organizations whose primary focus is family and children's issues.
Fran Presley is a 1979 graduate of Vanderbilt University Engineering School and has worked as an engineer for FedEx Express for over 27 years.  She is currently the industrial  engineer responsible for logistics and staffing for the Fedex ramp operation at SeaTac airport.  Fran is single and likes to walk Alki Beach and ride her Harley in her spare time.  She also loves playing volleyball and snow skiing.
Libby is a financial educator and advisor specializing in creative retirement strategies for individuals and benefits for small and medium sized companies.  She and her husband live at Alki Beach in West Seattle and have 7 grandkids with another one on the way.  They've been known to look remarkably like Santa and Mrs. Claus at Christmas time for all kinds of children, young and older.